Vladrushka: Fuck Putin/Slava Ukraini

-
NEW!
2023
Digital Art
Buy Print and original(b/w) at Artpal

(coming soon)


Buy Print and original(b/w) at Saatchi Art

(coming soon)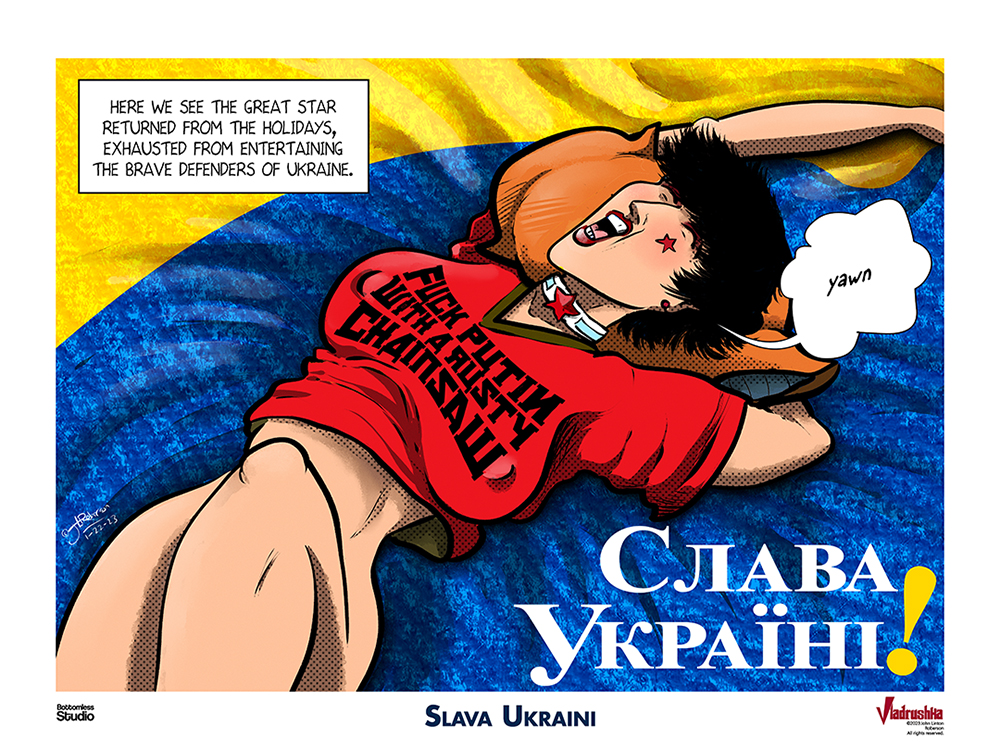 Vladrushka: Tsarina
2022
Digital Art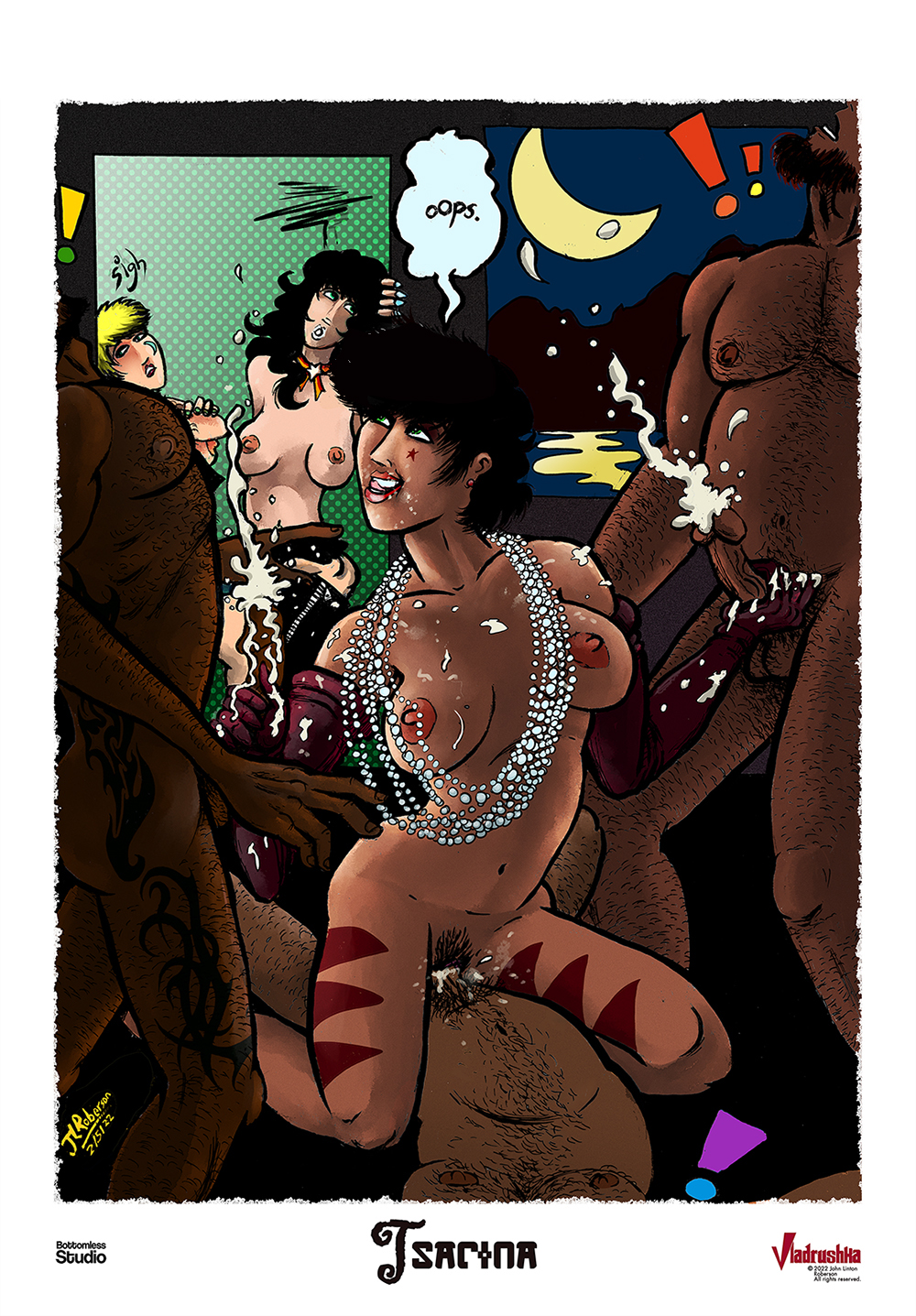 Vladrushka: Star Four

-
NEW!
2022
Digital Art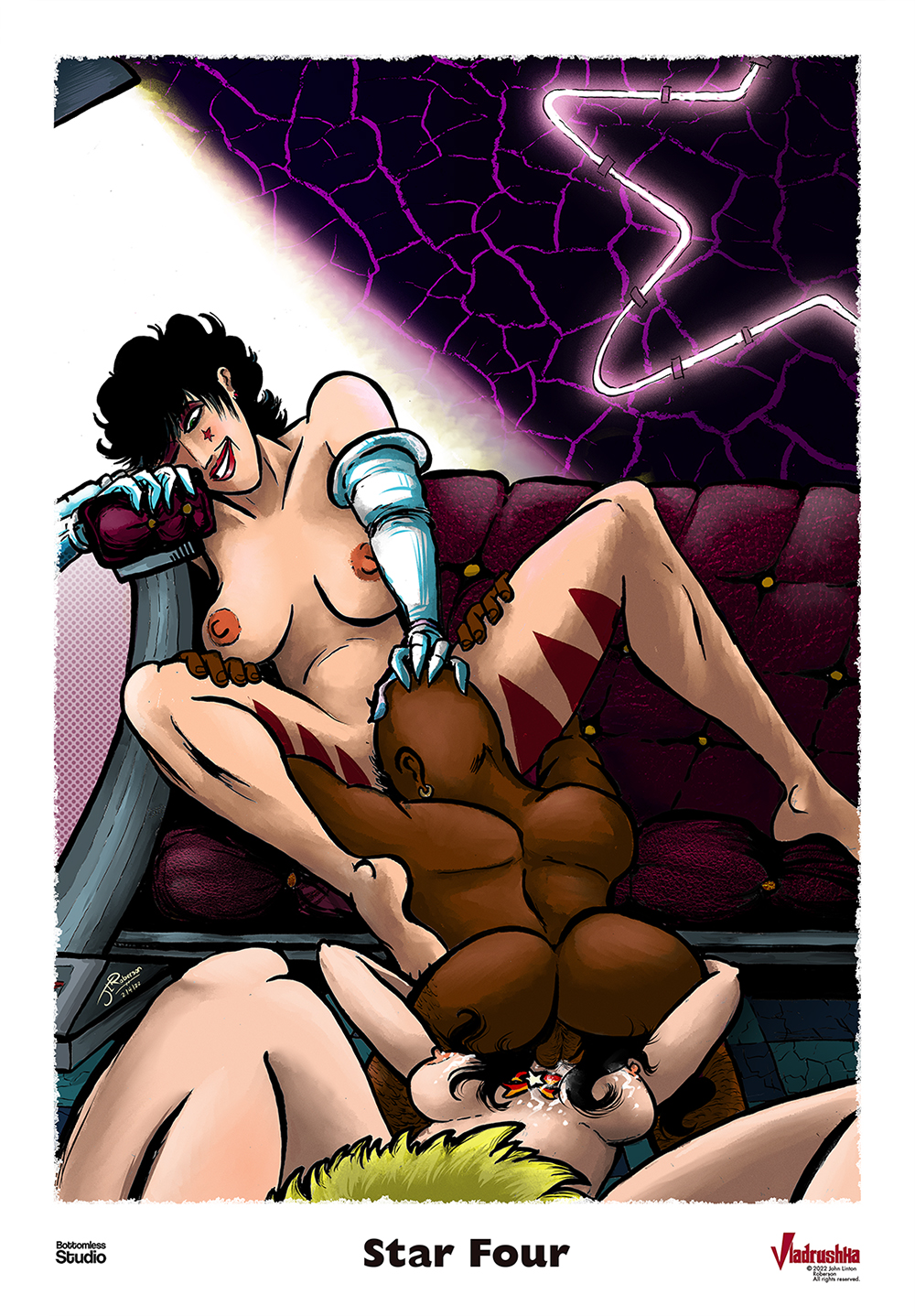 Vladrushka 1985

2020
Digital Art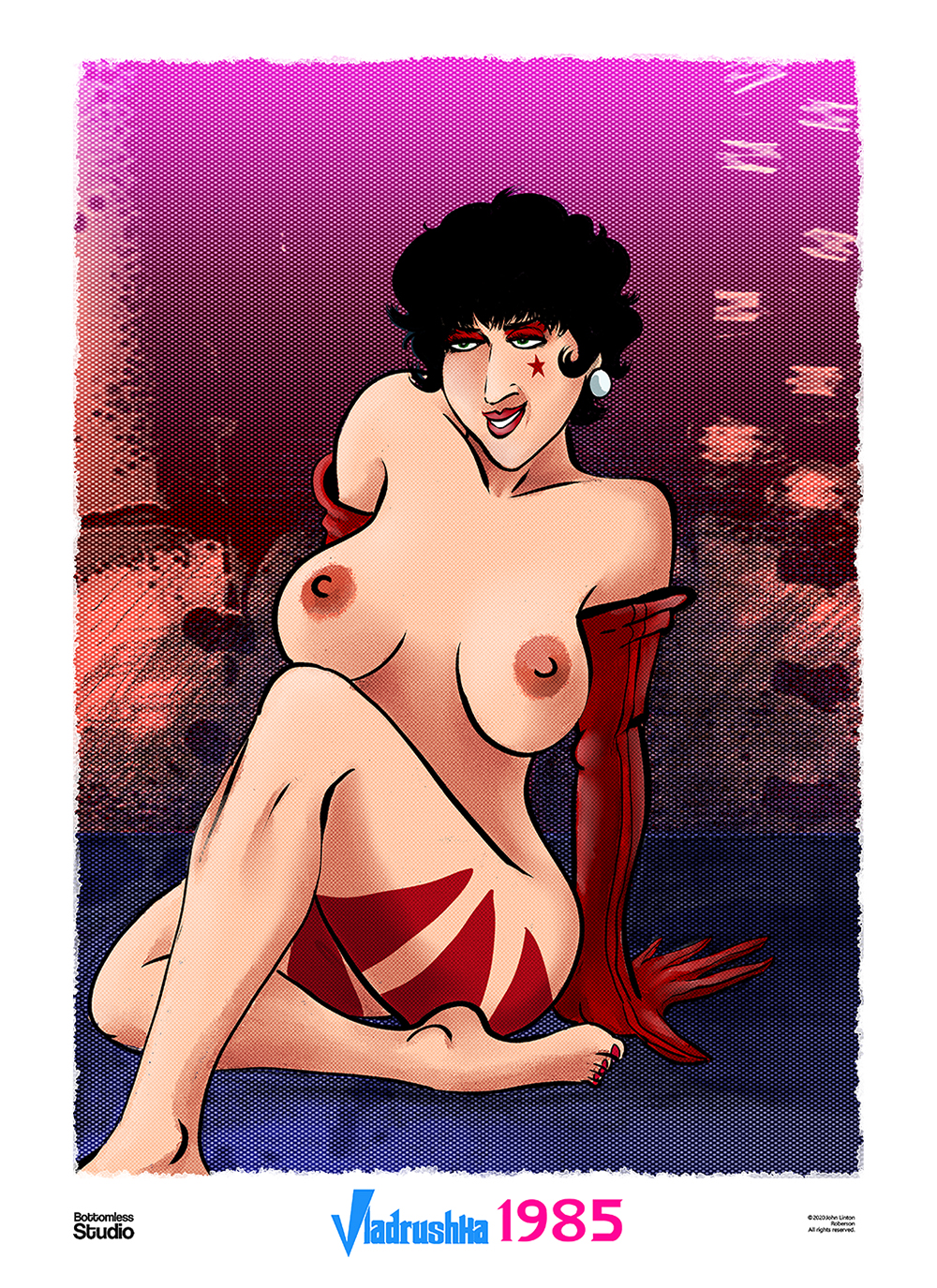 Family Snapshot

2020
Digital Art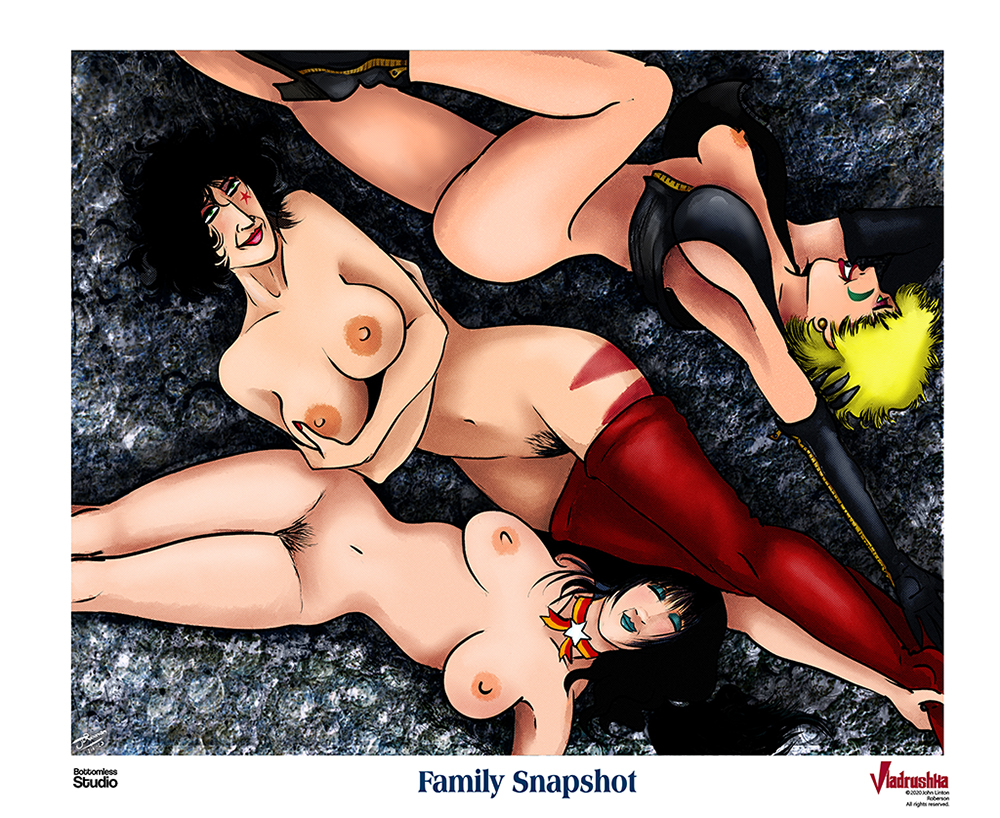 Mother's Pride

2020
Digital Art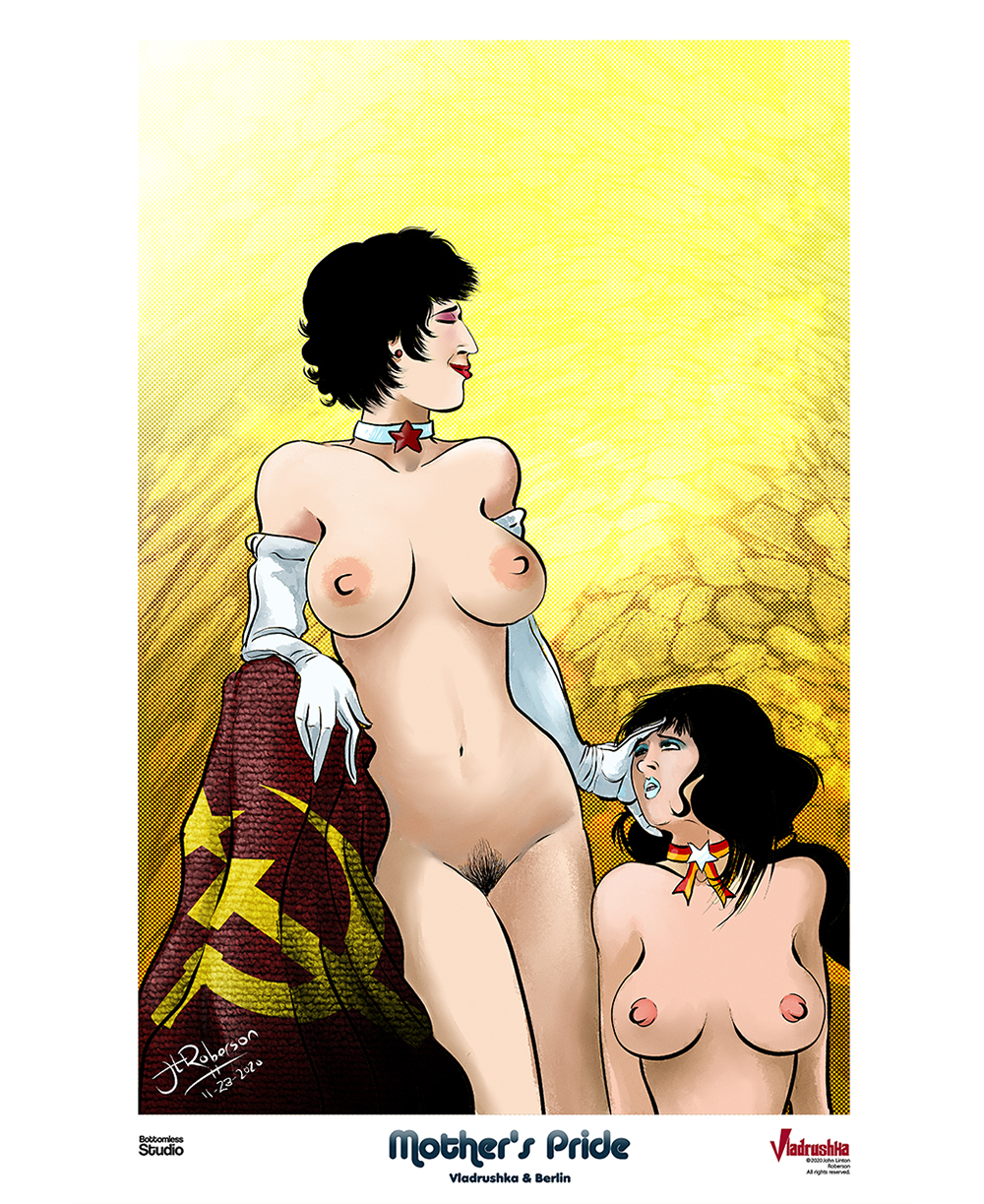 Mooning A Lichtenstein

2020
Digital Art


A Summer Night at the World Eaters Club
(After Pasolini)

2020
Digital Art
COLOR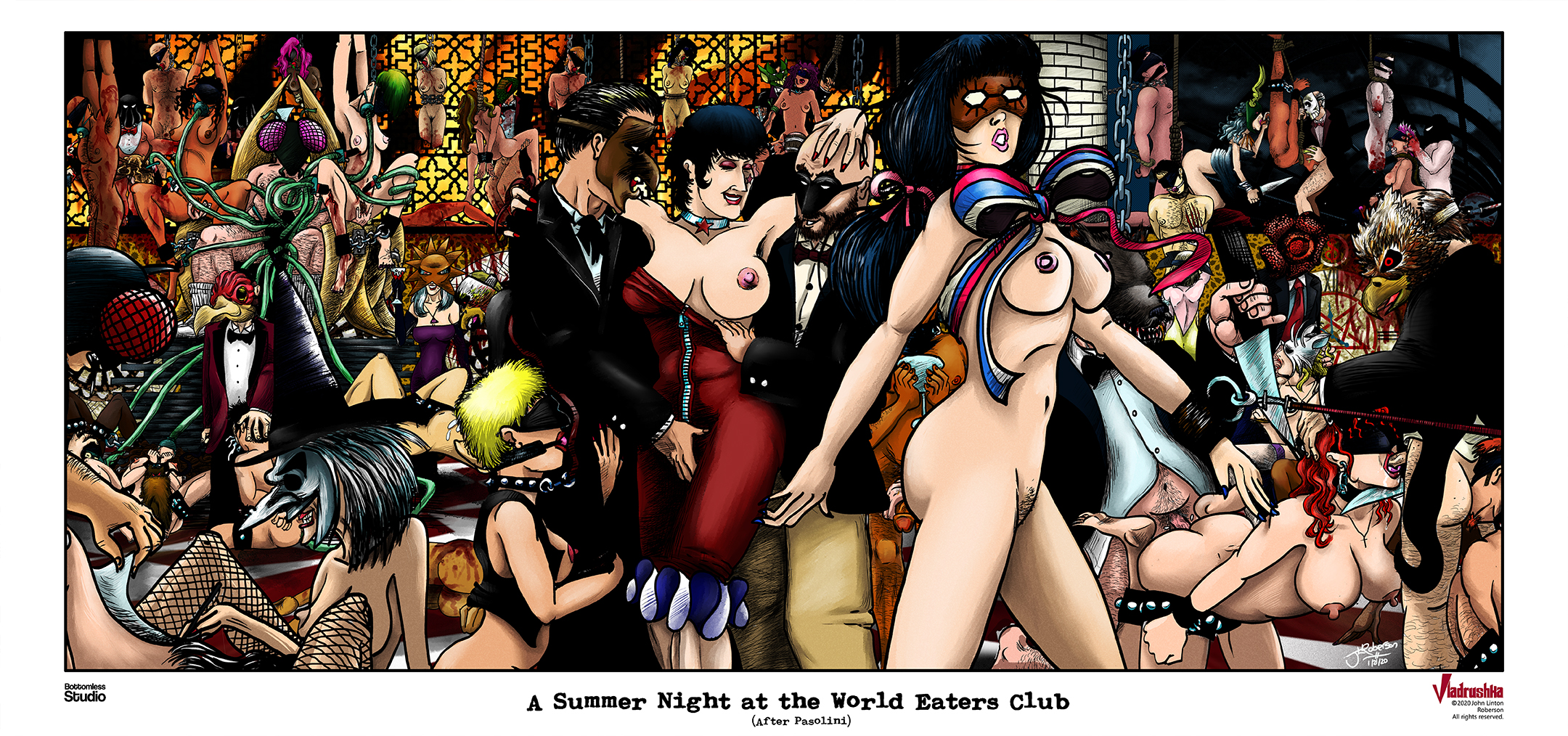 BLACK AND WHITE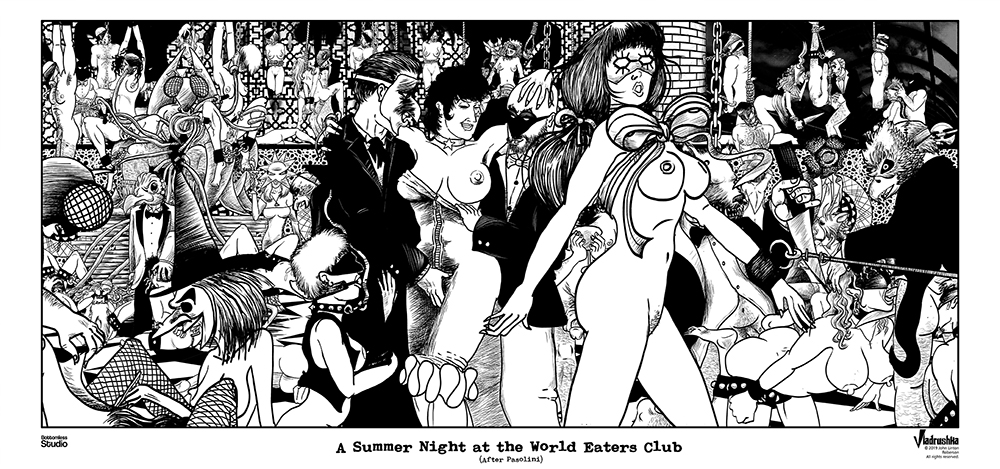 Pooling Resources
(2018)
Digital Art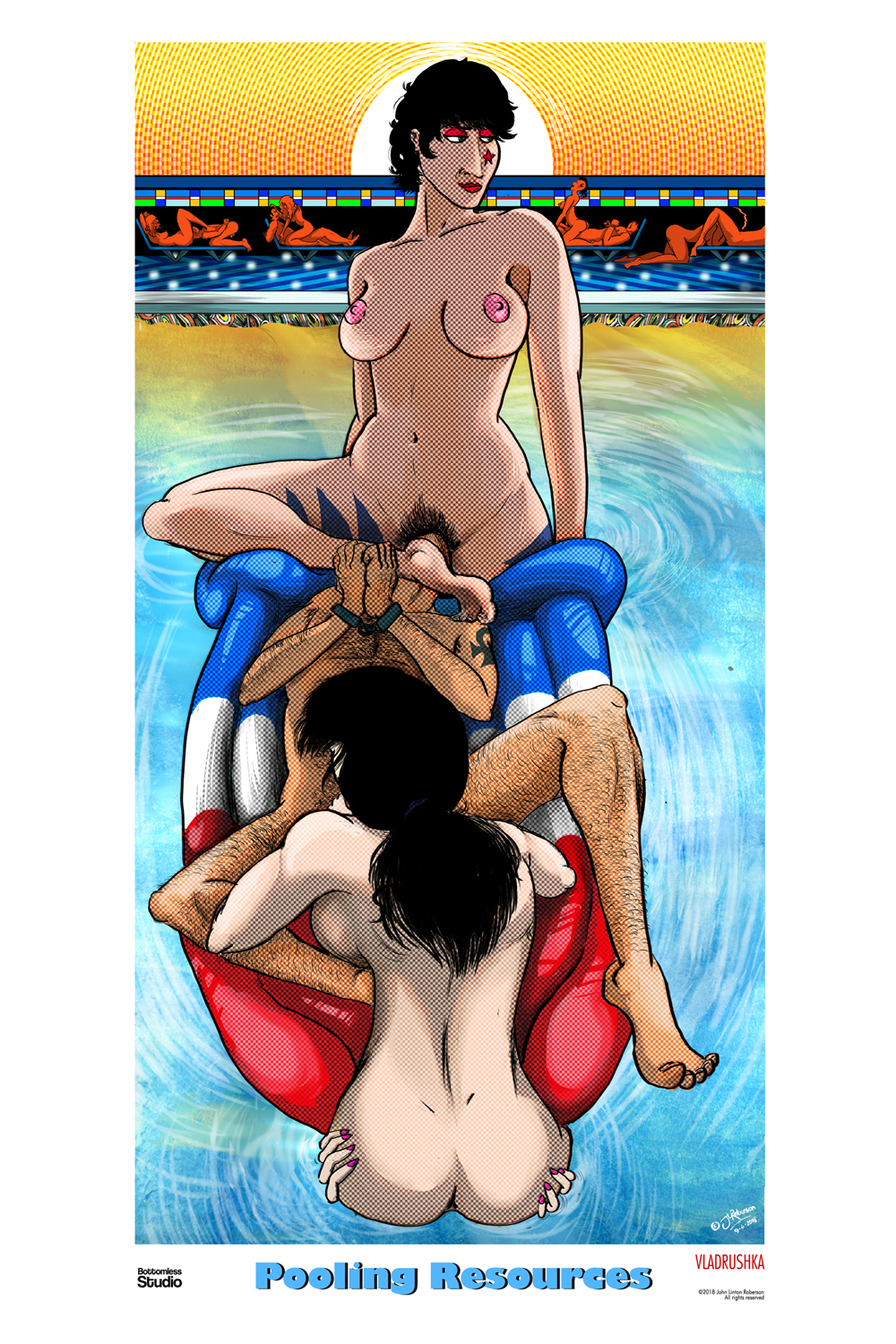 The Box
India ink and wash on illustration board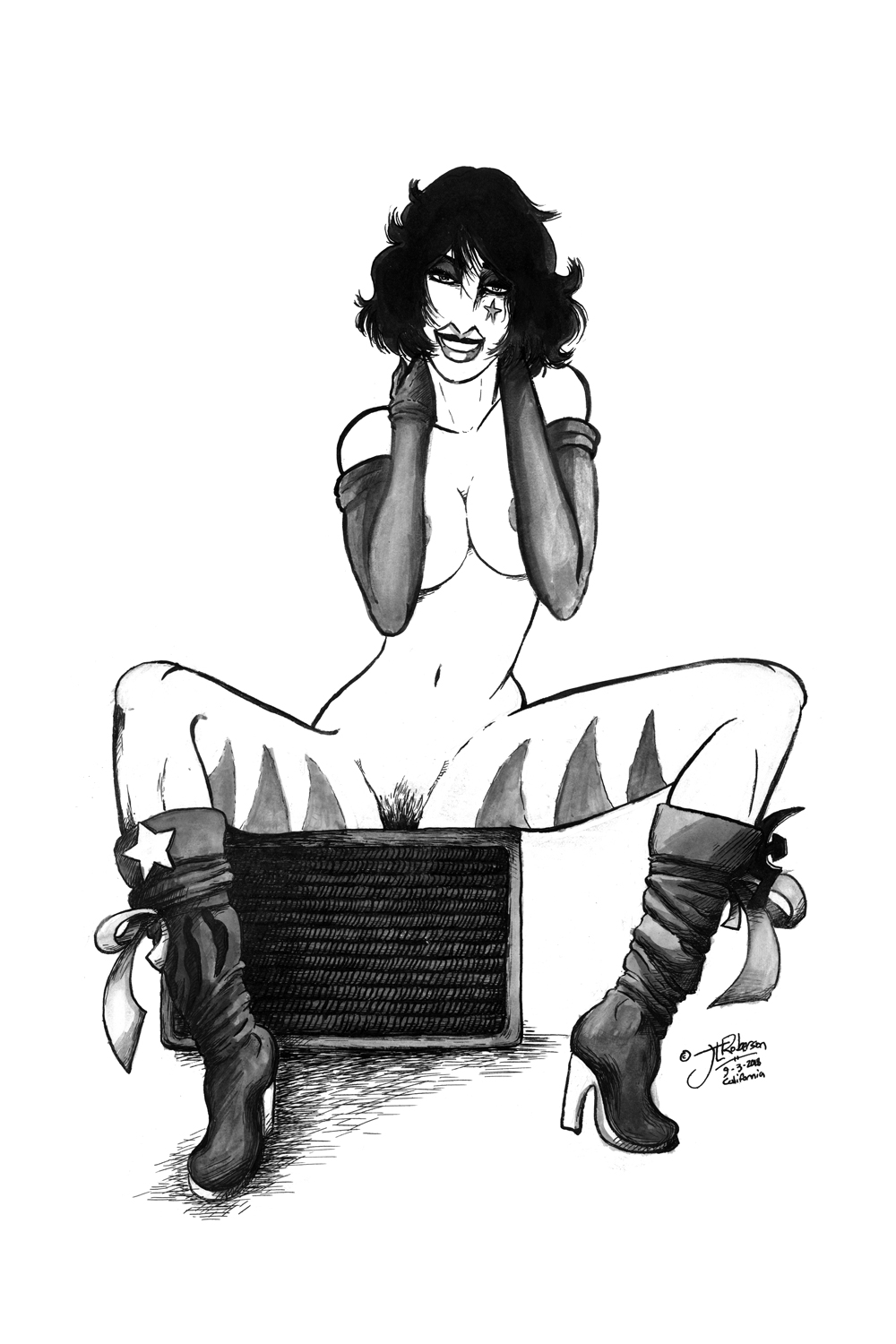 Fifteen

(Anniversary of Vladrushka drawing, 2018)
India ink on illustration board
Buy Original Art

and
Print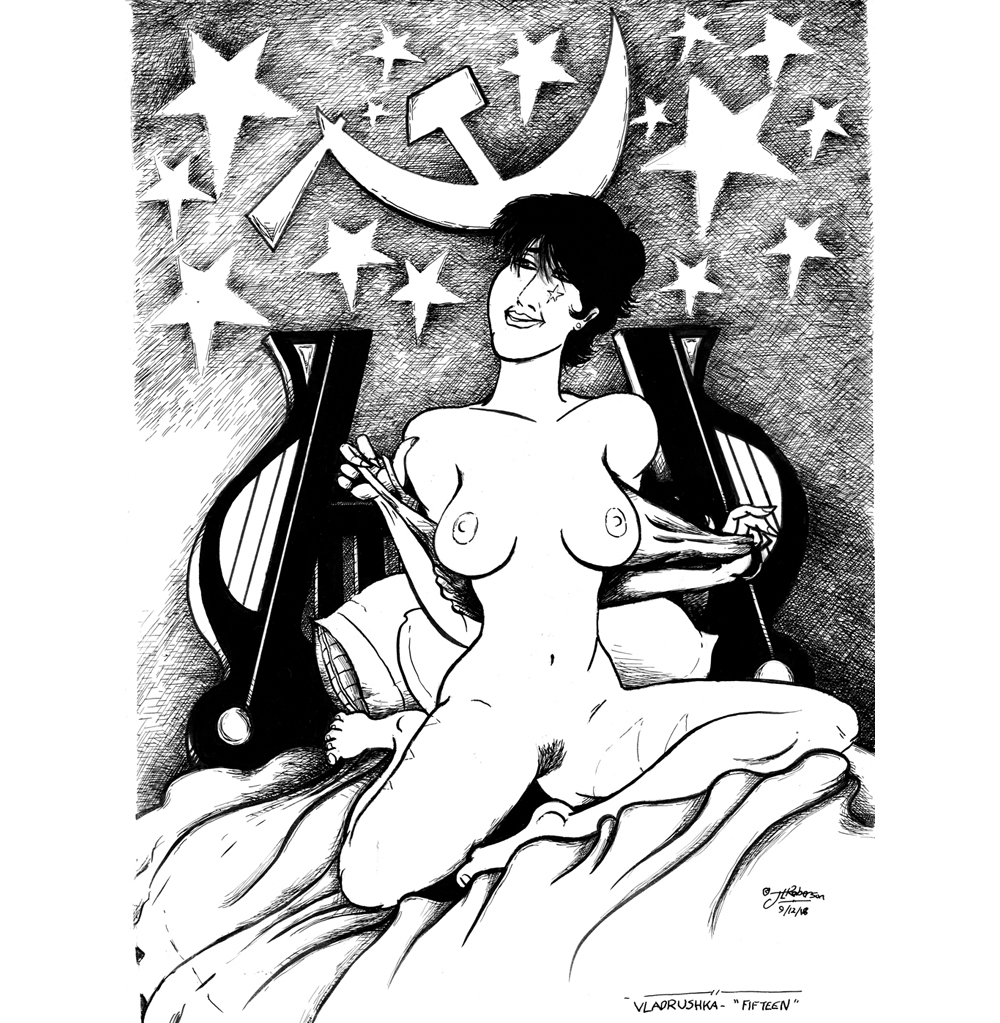 Taste


(2012)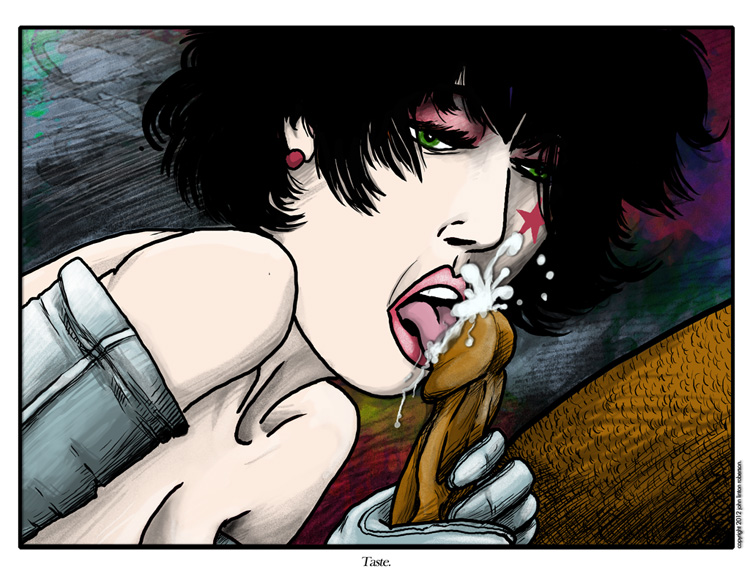 Forward! FORWARD!
Movie Poster, 1980
(2012)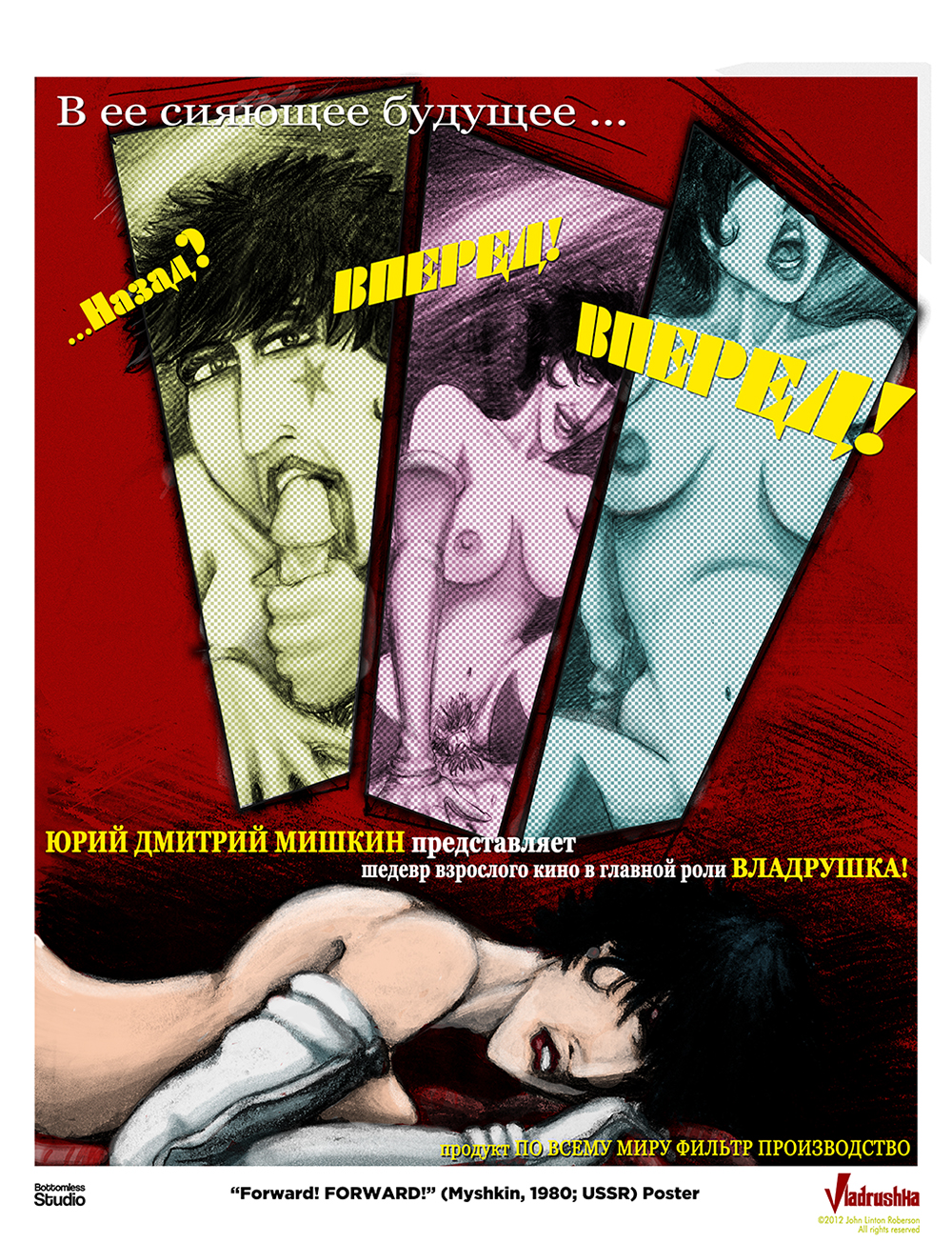 Notes on "Forward! FORWARD!"
1980
Directed by Yuri Dmitri Myshkin
Starring Vladrushka Vostok
One of Myshkin's works of "pornoganda" for which he was the most proud, and also, as so often in cinema, one of his greatest heartbreaks.
This three-hour epic starred Vladrushka in her usual Myshkin role of a plucky young beautiful Soviet girl who wants to give her all for the glorious Soviet Union. This time around, her way of doing it is to seduce the entire American Olympic team systematically, making them all late or woozy for their events, assuring Soviet gold medals in every event.
The climax of the film is Vladrushka being declared a Hero of the Soviet People by Brezhnev himself, who was barely aware of what he was being filmed for but went along so no one would suspect.
Truly, Myshkin put his heart and soul into this intensely patriotic film, but unfortunately, fate killed his dreams, or at least this one: it had been intended to be released to coincide with the 1980 Moscow Olympics, but the United States boycotted that year because of the Soviet invasion of Afghanistan. Now a source of embarrassment, the film and all publicity materials were permanently shelved and locked in an iron box in the sub-basement of the Soviet Archives, where it was later found in 1996.
Myshkin and Vladrushka spent 6 months in a work camp for not predicting the US would boycott. "I was foolish," Myshkin later said in his signed confession that secured his release.
Invest in Russia 1996
(2012)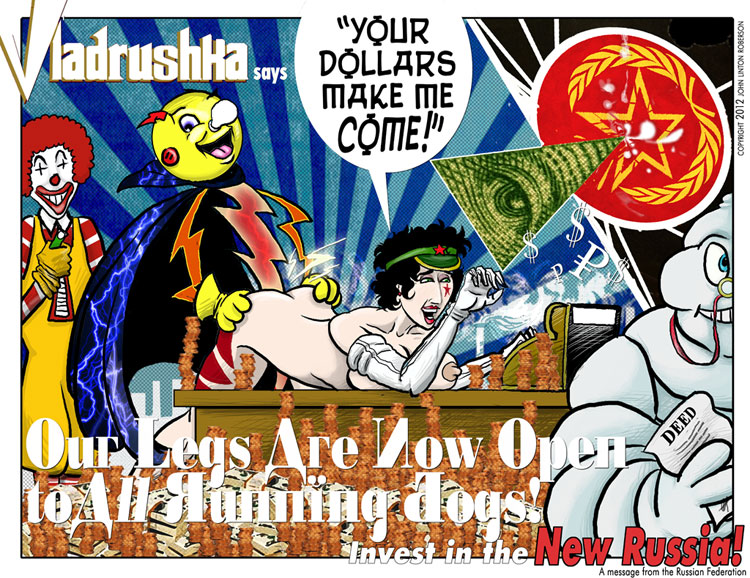 In 1996, Vladrushka had one more patriotic duty to perform for the newly capitalist Motherland. So many had lost so much under Boris Yeltsin's drunken, kleptocratic regime, and she made it a point to aid him in this. Accordingly, she and her longtime director Yuri Myshkin devised a plan sure to attract American and European investment in the new Russia.
In a nutshell, what was promised on the poster was indeed the plan: Vladrushka offered to have incredibly detailed sex with the CEOs of a number of western companies in exchange for investment. Obviously Yuri planned to film this, but KGB official Vladimir Putin was enraged when Yuri would not share this with him, planning only to use it for a new film and not for blackmail.
It was at this point Vladrushka and Myshkin were thrown out of Russia forever, beginning her Hollywood years which continue to this day.
Springtime, Downtown Saturday Night with London & Berlin


(2012)
Fixations with London & Berlin


(2011)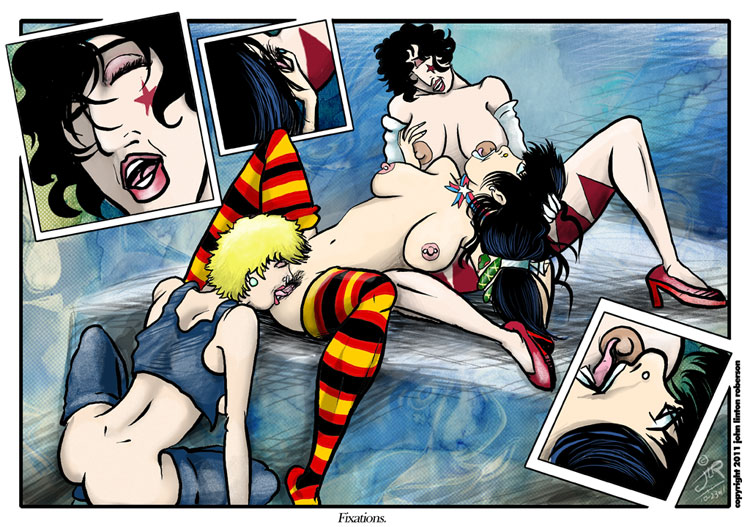 My Good Side with London


(2011)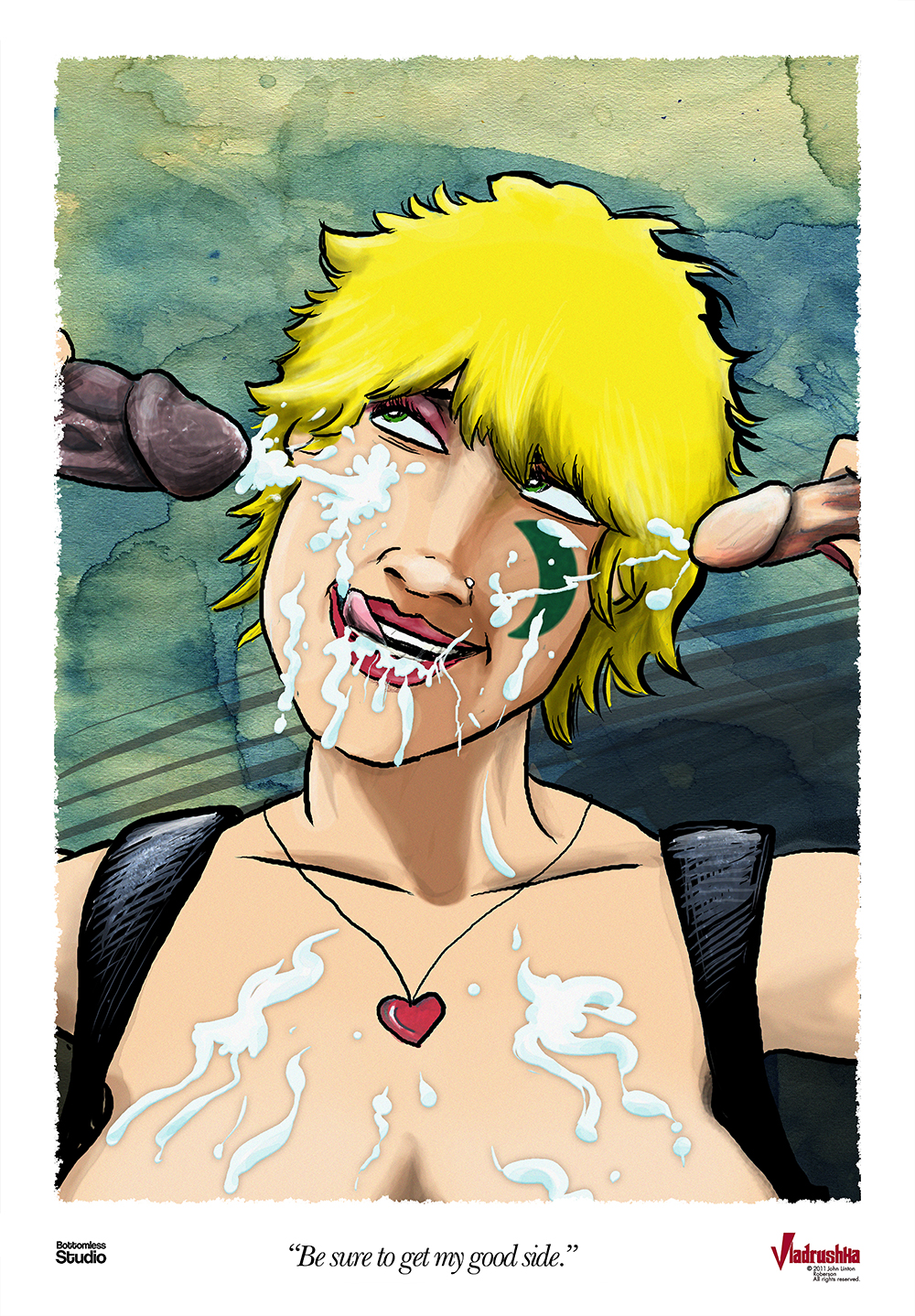 Me Next with London & Berlin


(2011)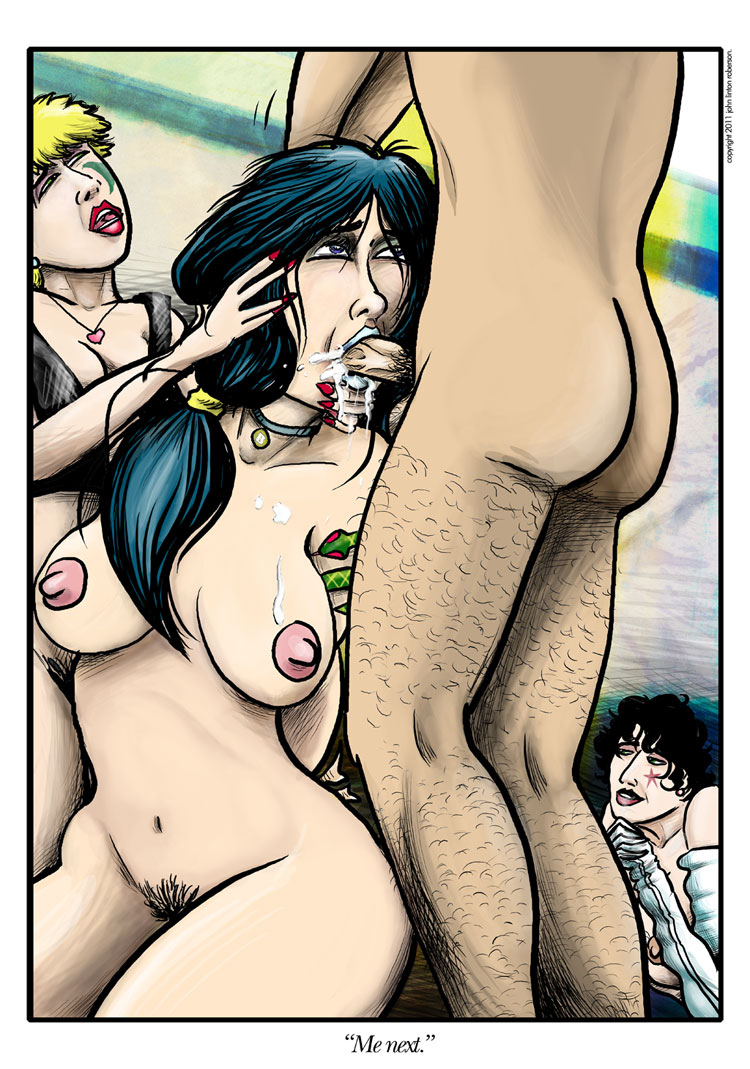 To Revolt Is Glamorous!

(2010)

Buy Print